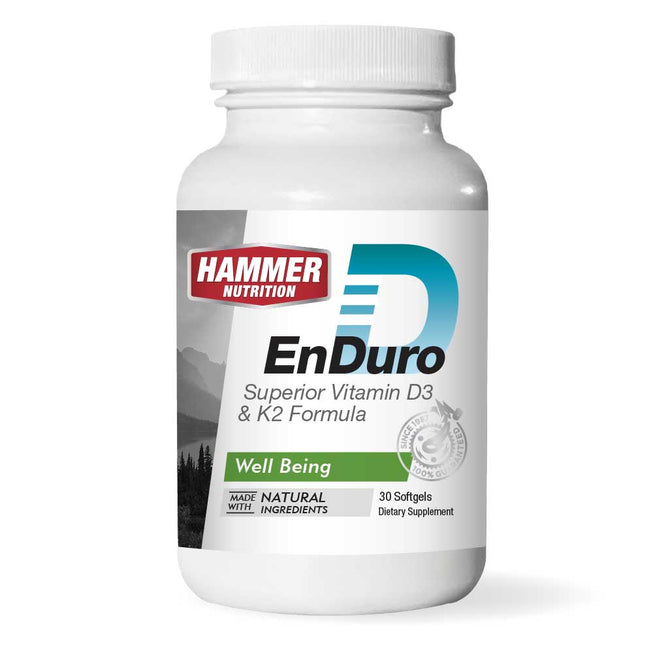 EnDuro D
Superior Vitamin D3 / K2 Formula
Superior structural health combination
Offers powerful defense system support
Helps improve carbohydrate utilization
EnDuro D is a vital part of the Immunity Booster Kit
Vitamin D3 and K2 are both essential fat soluble nutrients that supply many benefits individually, but they rely on each other to function optimally. EnDuro D takes advantage of these synergistic effects to provide a superior formula in an easily absorbable softgel. For immune system support, bone health, and cardiovascular health, take EnDuro D: the dynamic duo for health and well-being.
What are the different forms of vitamin D and why did you select vitamin D3 for EnDuro D?
Vitamin D1. In 1919, German researcher Adolf Windaus discovered three forms of vitamin D: D1, D2, and D3. When it was found that D1 was actually a mixture of compounds instead of a pure vitamin D product, the term D1 was dropped.
Vitamin D2 (ergocalciferol) is the plant-derived form.
Vitamin D3 (cholecalciferol) is the sun-derived form, animal-derived (lanolin) form, and the one we chose for EnDuro D because it effectively raises bodily levels of active vitamin D better than D2.
What would you recommend to help in the healing process of a bone fracture, and also to maintain bone strength going forward?
Here are the following supplements that will be really helpful in not only fully healing the bone, but to strengthen it more and more.
1) Premium Insurance Caps. Many nutrients contribute to bone health, and, of course, overall health. Vitamin C, vitamin D, vitamin B6, magnesium, calcium, selenium, zinc, and more play a bone-healing role. Suggested dose: 2 capsules 2-3 times daily.
2) Essential Mg. For too long, people have been under the impression that taking lots and lots of calcium was necessary to help with bone healing and also to help prevent osteoporosis. And while calcium is indeed an important nutrient, it's actually magnesium that is the most important... and for a slew of reasons in addition to bone health. It is so important, in fact, that we've included an article regarding magnesium's role in bone health...
Magnesium – Mightiest Mineral for Bone Health
By: Steve Born
In Endurance News #103, I wrote about an article that discussed the importance of magnesium in maintaining optimal bone health (Magnesium: The most important mineral for bone health). The bottom line was that while calcium, vitamin D, and a couple other nutrients certainly play a role in bone health, I believe that it is magnesium that is "driving the train." A portion of the article states:
A strong case can be made for magnesium as the most important component for bone health instead, especially because magnesium is necessary for the proper utilization of vitamin D and calcium.
Dr. Susan Brown writes, "Since magnesium participates in an astonishing array of biochemical reactions, it's no surprise that it's essential for healthy bones. Most notably, adequate magnesium is essential for absorption and metabolism of calcium."
More recent research appears to confirm this rationale. A study [1] conducted by researchers from the Universities of Bristol and Eastern Finland showed that higher serum levels of magnesium greatly decreased the risk of bone fractures.
The researchers followed nearly 2,250 middle-aged men over a 20-year period and found that the risk of having a bone fracture—particular a fracture of the hip—was decreased by an astounding 44% in men with higher blood levels of magnesium. Researchers also noted that the 22 men with the highest magnesium levels had no incidence at all with bone fractures over the entire 20-year period.
Lead researcher, Dr. Setor Kunutsor, states: "The findings do suggest that avoiding low serum concentrations of magnesium may be a promising though unproven strategy for risk prevention of fractures."
While magnesium arguably being the key mineral for bone health—including the very real potential for helping prevent fractures—may be news for some, magnesium expert, James South, wrote about it decades ago. In his hallmark article "Magnesium, The Key to Health and Life," and referencing the work of Dr. Guy Abraham from the early 80's, South writes:
"Magnesium stimulates release of the hormone calcitonin, which drives calcium into the bones where it belongs, and out of the soft tissues where it doesn't. A high-calcium, low-magnesium diet and cellular environment will thus tend to favor calcification of soft tissues as osteoporosis gradually develops. Abraham points out that Asian and African diets are low in calcium (300 to 500 milligrams daily), yet high in magnesium, and osteoporosis is not more common in Asia and Africa than in Europe and America, where daily calcium intakes from high-dairy diets are often 800 to 1,000 milligrams daily, combined with low magnesium."
Abraham notes, "When patients with severe osteoporosis were given massive doses of calcium they went into positive calcium balance, but radiographic studies revealed no change in the osteoporotic process. Where did that calcium go? Obviously into the soft tissues where it does not belong." Abraham adds, "Magnesium has a calcium-sparing effect and decreases the need for calcium." [2]
This exciting new research, along with previous studies, confirms the key role that magnesium plays in bone health.
As I've mentioned before, "Unfortunately, while magnesium is contained in a variety of foods, the overall degradation of our food supply has caused the average American intake to decline to amounts significantly below Optimum Daily Intake (ODI) levels. Therefore, to ensure you're obtaining adequate amounts of magnesium, select foods that contain substantial levels of this vital mineral (seeds and nuts are good sources), and augment your intake with additional amounts of magnesium via supplementation.
Essential Mg contains five forms of highly bioavailable magnesium. From supporting optimal bone health to so much more, Essential Mg is an ideal way to ensure that you're receiving optimal amounts of this all-important, health-benefiting mineral.
REFERENCES:
[1] Setor Kwadzo Kunutsor, Michael Richard Whitehouse, Ashley William Blom, Jari Antero Laukkanen. Low serum magnesium levels are associated with increased risk of fractures: a long-term prospective cohort study. European Journal of Epidemiology, 2017; DOI: 10.1007/s10654-017-0242-2
[2] Abraham G. The calcium controversy. J Appl Nutr 1982, 34:69-73.
Suggested Dose: 2 Essential Mg in the morning, 1 at lunchtime or early afternoon, and 1-2 at bedtime (at night, magnesium is very helpful for helping the muscles and nerves relax).
3) EnDuro D. There are far too many benefits of vitamins D3 and K2 to include here, so I'd encourage you to read the article New Product Alert - EnDuro D, as it provides more detailed information about this all-important product. Regarding bone health, the benefits from vitamin D3 supplementation are to support proper utilization of calcium to optimize bone density and overall bone health. Vitamin K2 works with vitamin D3 for supporting bone health by activating a protein called osteocalcin, which helps keep calcium out of the arteries while increasing the amount of calcium in the bones (teeth as well). Suggested Dose: 1 capsule is a sufficient amount on a daily basis. For bone repair, 1 capsule twice daily is suggested.
4) Boron. This trace mineral is extremely important for many aspects of health, and it is vitally important for maintaining and improving bone health because of the role it plays in assisting with the bone-building effects of calcium, magnesium, and vitamin D. Studies show that adequate intake of boron reduces the loss of calcium and magnesium excreted in the urine. That ensures that more of these two important minerals stay in the body. Suggested Dose: Exactly the same as EnDuro D.
5) Whey Protein. A lot of people don't think about protein when it comes to bone health, but this bit should convince otherwise. Bone can be imagined as being somewhat like a sponge made of living protein upon which mineral crystals are embedded. By volume, roughly half of bone is comprised of protein. When a fracture occurs, the body is called upon to gather protein building blocks together to synthesize a new structural bone protein matrix. In addition, protein supplementation increases growth factors like insulin-like growth factor-1 (IGF-1), a polypeptide that exerts a positive effect on skeletal integrity, muscle strength, immune response, and bone renewal. Protein malnutrition or under-nutrition leads to a "rubbery" callus, compared to the rigid calluses of those with adequate or high protein intake. Numerous studies document the acceleration of fracture healing with even a modest 10- to 20-gram increase in protein intake. The benefits of supplemental protein are important to everyone and especially important to those with malnutrition or low baseline protein intake. In fact, among elderly hip fracture patients, poor protein status at the time of fracture predicts fracture outcome. Those with low protein status take longer to heal, and have more complications, including death.
Specific amino acids of special importance include lysine, arginine, proline, glycine, cystine, and glutamine. Lysine, for example, is known to enhance calcium absorption, increase the amount of calcium absorbed into the bone matrix, and aid in the regeneration of tissue.
Suggested Dose: 1 scoop of Hammer Whey protein mixed in water only at bedtime + an optional dose of ½ to 1 scoop mixed in water with added fruit (smoothie) during the day will prove to be highly beneficial for bones, muscles, and immune system.
6) Tissue Rejuvenator. While not directly related to bone health, the nutrients in Tissue Rejuvenator will provide potent benefits for alleviating soreness, aches, and swelling, while also helping strengthen all of the connective tissue surrounding the bones. Suggested Dose: 2 capsules twice daily is our suggestion.
7) LSA Caps. This product, as well as Premium Insurance Caps, contains this trace mineral. The roles selenium plays in bone health are complex, but it is believed that a portion of its importance comes via its antioxidant properties. As part of the glutathione peroxidase antioxidant enzyme, selenium helps neutralize reactive oxygen species (ROS) free radicals. Levels of selenium that are too low can lead to higher ROS levels, which is considered to be a primary culprit in the development of osteoporosis. Low levels of selenium at also associated with lower bone mineral density (BMD), which decreases bone strength and increases the risk of fractures and osteoporosis. Suggested Dose: 2-4 capsules of Premium Insurance Caps (57 - 86 mcg) and 4 capsules of LSA Caps (100 mcg) daily will supply you with an ideal amount of selenium.
Are your supplements 3rd party tested?
Yes, every Hammer Nutrition supplement is 3rd party tested in compliance with the FDA's regulations, 21 CFR Part 111 – Dietary Supplements. All the raw materials for each supplement we produce are tested for purity, strength, identity, and integrity. In addition to raw material testing, every Hammer Nutrition supplement is also tested in every stage of production—blending, encapsulation / powder-filling, packaging components and finished goods—before being released for distribution.
How important is vitamin D for the immune system?
Space limits listing all of the roles that vitamin D plays in the body, but it's fair to say that since nearly every bodily cell and tissue has vitamin D receptors, they all require vitamin D to function properly [1, 2]. Regarding the immune system, the vitamin D in EnDuro D is very much a "front line defense" nutrient.
A portion of the conclusion from one piece of vitamin D/immune system research states: "Vitamin D has important functions beyond those of calcium and bone homeostasis which include modulation of the innate and adaptive immune responses. Vitamin D deficiency is prevalent in autoimmune disease. Cells of the immune system are capable of synthesizing and responding to vitamin D." [3]
Commenting on other vitamin D/immune system research [4], Dr. Richard Mellanby writes: "Low vitamin D status has long been implicated as a significant risk factor for the development of several autoimmune diseases. Our study reveals one way in which vitamin D metabolites can dramatically influence the immune system."
Lastly, highly regarded vitamin D expert, Dr. Richard F Holick, states that vitamin D "is capable of regulating a wide variety of genes that have important functions in regulating cell growth, modulating immune function and cardiovascular health. Epidemiologic evidence and prospective studies have linked vitamin D deficiency with increased risk of many chronic diseases including autoimmune diseases, cardiovascular disease, deadly cancers, type II diabetes and infectious diseases." [2]
REFERENCES:
[1] Holick MF. Vitamin D: evolutionary, physiological and health perspectives. Curr Drug Targets. 2011 Jan;12(1):4-18.
[2] Holick MF. Vitamin D: a d-lightful solution for health. J Investig Med. 2011 Aug;59(6):872-80.
[3] https://www.ncbi.nlm.nih.gov/pmc/articles/PMC3166406/
Does supplementing with magnesium maximize vitamin D's benefits?
Yes! To get the full value of the plentiful benefits from the vitamin D in EnDuro D, you need sufficient amounts of magnesium. This is because magnesium activates the enzymes involved in vitamin D metabolism. In one study, researchers stated that it is "essential to ensure that the recommended amount of magnesium is consumed to obtain the optimal benefits of vitamin D." [1]
Another study [2] indicates that magnesium also optimizes vitamin D "status" in the body—increasing it in people with deficient levels and lowering in people with too-high levels. This, researchers believe, is vital because people synthesize vitamin D differently; in some individuals, vitamin D levels were found to not rise even after being given high doses of the vitamin. Using magnesium in vitamin D studies, and via magnesium's "raising/lowering vitamin D levels as needed" properties, more-reliable conclusions can be achieved in research regarding conditions related to vitamin D levels. Additionally, thanks to magnesium's ability to balance and optimize vitamin D levels, more people will be able to enjoy the plethora of benefits that come from optimal—not too low, not too high—blood levels of this all-important vitamin.
With each capsule containing 100 mg of magnesium from five highly bioavailable forms, Essential Mg is the easy way to provide your body with this "necessary for vitamin D utilization" mineral.
REFERENCES:
[1] https://jaoa.org/article.aspx?articleid=2673882
[2] Magnesium status and supplementation influence vitamin D status and metabolism: results from a randomized trial; Qi Dai Xiangzhu Zhu JoAnn E Manson Yiqing Song Xingnan Li Adrian A Franke Rebecca B Costello Andrea Rosanoff Hui Nian Lei Fan Harvey Murff Reid M Ness Douglas L Seidner Chang Yu Martha J Shrubsole; The American Journal of Clinical Nutrition, Volume 108, Issue 6, 1 December 2018, Pages 1249–1258, https://doi.org/10.1093/ajcn/nqy274
Why are nutrients that used to be measured in International Units (IU) now measured in milligrams or micrograms?
Q: Why are nutrients that used to be measured in International Units (IU) now measured in milligrams or micrograms, and what is the difference between these two measurements?
A: International Units (IU) was historically used to measure vitamin A, beta-carotene, vitamin D, and vitamin E. However, the United States Food and Drug Administration (FDA) required that supplement facts labels change IU to metric units, which is why you now see milligrams (mg) or micrograms (mcg).
It's important to know that even though there is a new standard of measurement, the amounts of the nutrients have not changed in any of the affected Hammer Nutrition products.
Vitamin D – 1 IU = 0.025 mcg
Example: 1 softgel of EnDuro D contains 2,000 IU of vitamin D, now expressed as 50 mcg.
Maintenance dosage
Take 1 softgel daily with meals or separately.
Acute needs (winter months, low sunlight conditions)
Take 2–3 softgels daily
VITAMIN D
D3 (cholecalciferol)
The sun-derived form, animal-derived (lanolin) form, and the form that is believed to effectively raise bodily levels of active vitamin D better than D2.
VITAMIN K
K2 (Menaquinone)
The form often found in foods that contain fat and suggested to be a better-absorbed form than K1 that also circulates in the blood longer than K1.
EnDuro D
Supplement Facts

Serving Size: 1 Softgel
Servings Per Container: 30
Amount Per Serving
% Daily Value*
Calories
5
Cholesterol
<5mg
<2%
Vitamin D (as cholecalciferol) (2000 IU)
50mcg
250%
Vitamin K from
1680mcg
1400%
K2 as (menaquinone-4 (MK4))
1500mcg
K2 as (menaquinone-7 (MK7))
180mcg
* The Percent Daily Values are based on a 2,000 calorie diet. Your daily values may be higher or lower depending on your calorie needs.
† Daily Value not established.
Other Ingredients: Capsule Shell (gelatin, glycerin, purified water), olive oil.

These statements have not been evaluated by the Food and Drug Administration. This product is not intended to diagnose, treat, cure or prevent any disease.