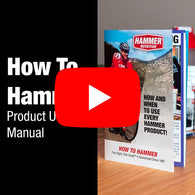 Product Usage Manual
How To Hammer
Hammer Nutrition's Product Usage Manual contains product and usage suggestions to optimize your fueling and supplement program.
Inside, you'll find actionable advice on how and when to use every Hammer product. Combine these usage plans with SOS: 5 Secrets of Success for Endurance Fueling and you have a winning combination, guaranteed!
Download a FREE PDF copy today or add a hard copy to your next order with the add to cart button below:
 Product Usage Manual (6 MB)
Looking for sport-specific fueling advice?
Find how-to fueling guides for your favorite activity in our fueling for success section.
The Product Usage Manual is a small and handy resource that supplies all the vital information you need for proper application, mixing instructions (where appropriate), suggested usage, and special notes for each Hammer Nutrition product.