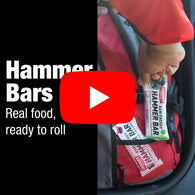 Hammer Energy Bar Kit
Five Delicious Flavors—try them all!
Great way to taste them all and find your favorite
Natural, all-organic ingredients
Delicious taste, moist texture, easy to digest
No preservatives, trans fats, additives, coatings, soy, peanuts, refined sugars, or dairy
Try five flavors of our Hammer Bars - Almond Raisin, Chocolate Chip, Coconut Chocolate Chip, Cranberry, and Oatmeal Apple.
Find individual bars available for purchase on our Hammer Bars page.